[ad_1]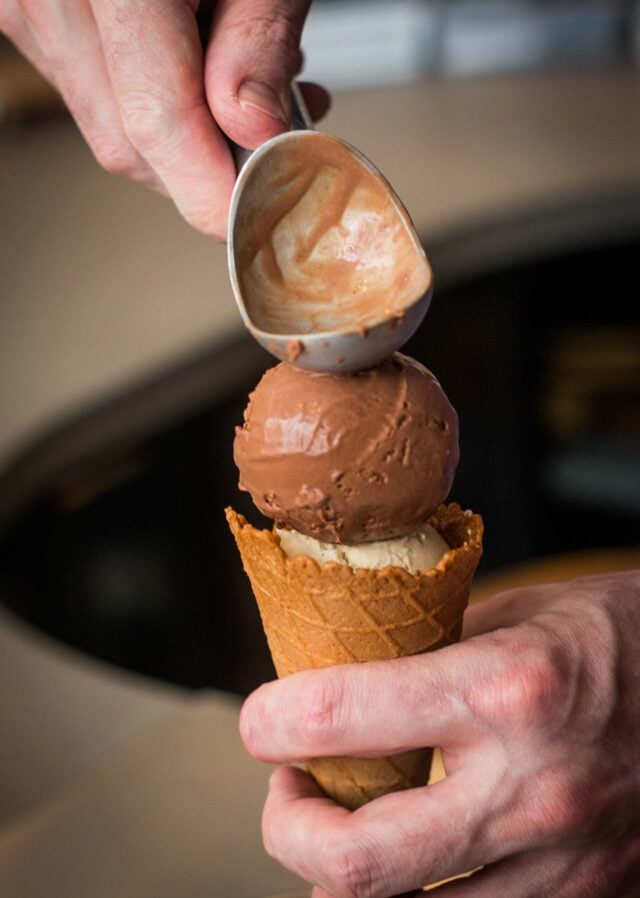 It used to be that if you wanted ice cream in Paris, you went to Berthillon. While there were other notable places on my list (circa 2007), if you wanted a scoop of ice cream after dark in other parts of the cities, you were out of luck. Like bakeries, ice cream options tend to be few and far between in the evening, and there were not a lot of glaceries open after dark. So if you wanted to go for a post-supper stroll for a few boules de glace, it was often pas possible.
Fortunately, that's changed in recent years as several pastry chefs opened upscale ice cream shops in the Marais (and elsewhere), and younger talents, like Henri at Glazed and Bachir from Lebanon, have also jumped into the mix. Even better, Folderol has arrived, an ice cream shop & wine bar from the husband and wife team that brought us Le Rigmarole restaurant. This goes to show that good things come to those (like me) who wait…even if it takes fourteen years.
As businesses in Paris rebound from the long period of closures due to the pandemic, the 'period of pivoting' gave time for creative talents like pastry chef Jessica Yang, and her husband, chef Robert Compagnon, the chance to dive into the world of ice cream fait maison, made in-house, as well as offering wines by the bottle or by the glass in this hybrid glacerie/bar à vin – ice cream shop and wine bar.
Like their restaurant Le Rigmarole, which Robert (who is French/American) admits uses a word that doesn't exist in French ("rigmarole,") when I asked what Folderol meant, he said it meant something is trivial, nonsensical, or useless.
Proving that not everything translates, there's nothing useless about ice cream, or wine, for that matter. But methinks it's meant to demystify what they are serving as Robert likes to be playful with the food at his restaurant, where French ingredients are expertly cooked on a Japanese charcoal grill.
Another thing that doesn't necessarily translate between French and American culture is that the French don't eat traditionally outside of prescribed mealtimes.
I've tried to explain that humans are animals, and animals eat when they are hungry, not when the clock says it's 8 o'clock. But that argument hasn't worked around here, for some reason, and I still remember Romain's father saw me eating a bowl of sliced fruit mid-morning, and was astonished – "C'est formidable !" – he exclaimed when he saw me eating at 10 am. I'm pretty sure he was a little envious, too, as he liked to eat as much as I did.
One of the challenges French people faced during Covid lockdowns and curfews was changing eating habits, and times. But they soon adapted and rallied to the cause – because who doesn't want to eat? But they didn't have much of a choice when restaurants and café closed at 7 pm or 9 pm, pushing them to eat earlier than normal if they wanted to eat out. (Which people did.) When cafés had to close at 6 pm, cafés near me were packed for apéro hour by 4 pm…or earlier (!)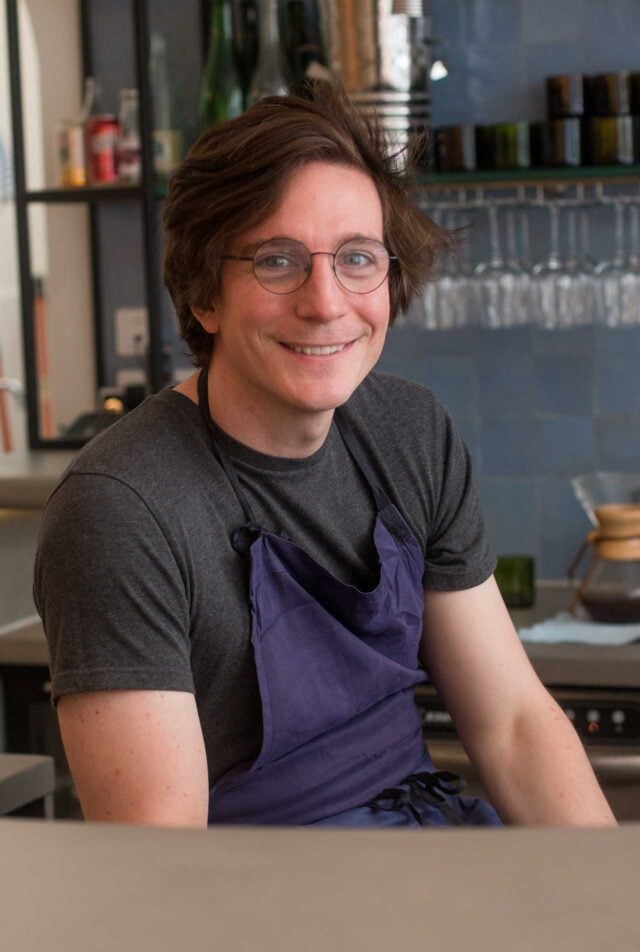 Like most restaurants in Paris, the handwritten menu of ice cream and sorbet flavors at Folderol changes daily, depending on the season, and the whims of Jessica and Robert. I often run into Robert at the local market and we exchange tips on who, and which stand, has what. He's so discerning that several vendors let him go behind the stand and pick out his own produce. I'm not there yet, but they trust his judgment, and so do I.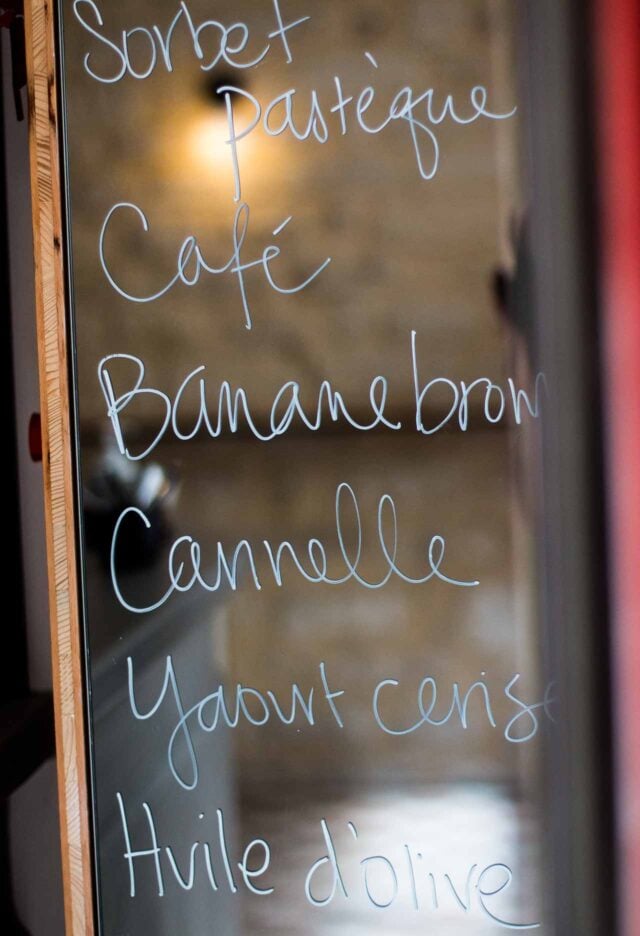 The menu might have Cherry Yogurt Ice Cream, Olive Oil, Ethiopian Coffee, or Banana-Brownie on it. The Vanilla Ice Cream has the creaminess of real Mexican vanilla, rather than the usual Madagascar variety that's touted in France.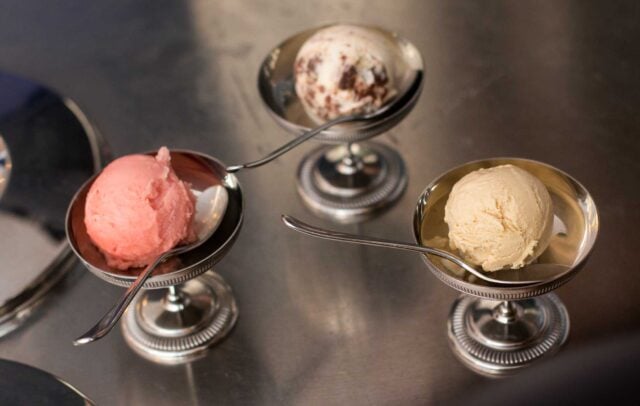 The Chocolate Ice Cream is made from a mix of 70% dark chocolate, milk chocolate, and cocoa powder. Like NY-based baker Melissa Weller told me, she uses milk chocolate when she wants that taste of her childhood in something, which milk chocolate reminds her of. I use milk chocolate in Amaro-Chocolate Chip Ice Cream and Milk Chocolate-Black Pepper Ice Cream, as it contrasts nicely with the bitter and piquant flavors of amaro and pepper.
Apricot-Osmanthus Ice Cream has dried flowers they brought back from Taiwan. Soja (soy) is made with soy sauce, not soy milk, and brown sugar. When I asked about using soy milk he said that because they like to use only the best-tasting, freshest ingredients, they usually only use dairy since one can find great milk and cream in France. (Robert told me, "We love dairy!") But if they found a good source for plant-based milk, they'd use it.
Robert told me that as a chef, he likes to give people strong flavors in small bites. And their wine shop and wine bar have an equally well-crafted and curated collection of wines on the shelves where one can do that in sips.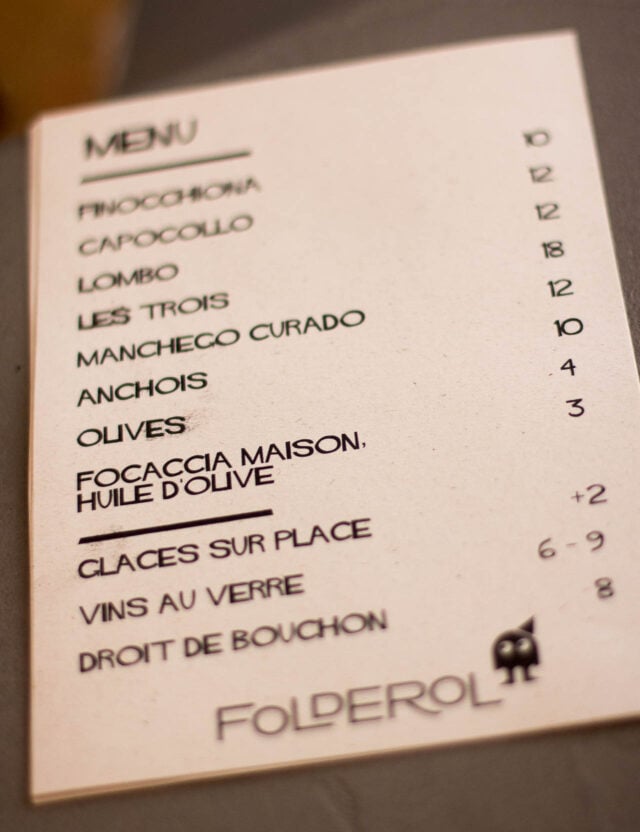 There are little snacks to go with the wine, and if you decide you want a bottle to drink on the spot, you can pull one off the shelf and pay a small droit de bouchon (corkage) to enjoy it there.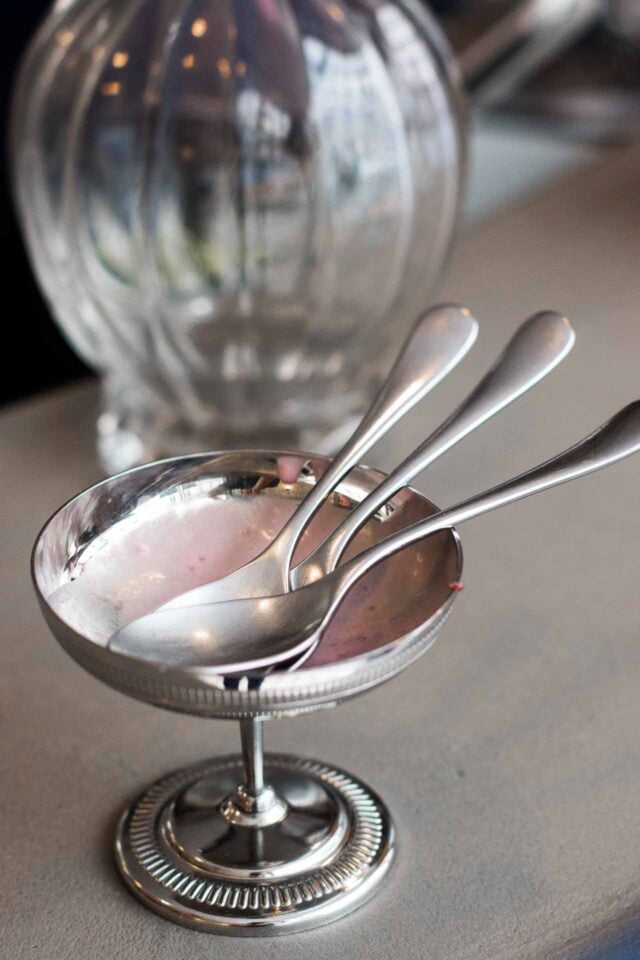 Folderol
10, rue du Grand-Prieuré (11th)
Tél: 01 43 55 02 57
Follow Folderol on Instagram.
Current opening hours: Wednesday – Friday, 4pm to midnight, Saturday and Sunday, 2pm to midnight (subject to change)


[ad_2]